For the best fitting lampshades, please bring your lamps if possible.  We can fit our shades to your lamps, and it's fun to try a different style!  You will be surprised how a new shade can update your lamp and your room!
How to Measure a Shade
A – TOP DIAMETER
B – BOTTOM DIAMETER
C – HEIGHT (measure slant too)
D – FITTER RECESS (or "drop")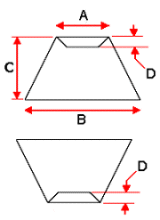 Fitter Guide
Shades are available with all of the fitters below.  If you need a special washer at the top or bottom, bring your shade and we may be able to order one for you.  If the same size washer is not available, we may use your shade's original washer to make a shade just for you.